MISTRESSES DAILY EXCLUSIVE INTERVIEWS

Below are Mistresses Daily's Official Interviews; reposted from previous blog posts.
All Interviews Conducted & Written by Megan Crouse (@MeganLCrouse)

2014
CATHERINE HAENA KIM INTERVIEW FIRST EXCLUSIVE INTERVIEW!
May 3, 2014

Catherine Haena Kim is the newest addition to the hit ABC series, "Mistresses" and is currently portraying Anna Choi, a recurring character in the show's second season.

The premiere is coming up quickly (June 2nd!) and Catherine was kind enough to answer a few of our questions about the upcoming season!

QUESTIONS
What was it like being the latest addition to a series in its second season?
It's so much fun to be a part

part



of a show that you actually watch. Plus, "Mistresses" was ABC's #1scripted show last summer, so everyone's excited to be back. They couldn't be more welcoming!

What attracted you to the show and your character, Anna Choi?
I love that the show is about women, about thinking that you were supposed to have it all together at some point and realizing that you don't, and about doing the best you can with a little help from your friends. I LOVE Anna. Her heart is so innocent and good. She's lost and trying to find her way. I think everyone can relate to that at some point.

Can you give us a little background or preview of your character this season?
The storyline has so many twists and turns, I'm even having a hard time keeping up, but definitely enjoying the ride. With Anna, what you see is not what you might get, but she's a good person, sometimes too trusting, and just dealing with feeling exposed. Yunjin Kim's character, Karen, really champions and guides her.

What's a typical day like on set (working with the cast and crew, the writing, the atmosphere, etc.)?
We mostly shoot everything at a studio. When I get to set, I drop my things off in my dressing room, and usually head straight into hair/makeup where those goddesses put my face together at sometimes ungodly hours. While the crew sets up lighting, camera blocking etc, the actors usually get to rehearse with the director, or I'll have some downtime to work on my scenes in private. Then, we really go to work and get to the fun stuff.
Yunjin set the bar for me the first day, when she pulled me aside and asked if I wanted her to do anything different or if I needed anything else from her when we went in for my first close-up. That's pretty much never heard of and so incredibly gracious. I realized the level that we're playing at, and try to meet it each time. The writers and directors are always so open to my questions and suggestions, and really make it a collaborative effort. There's no ego on set. Everyone's there to create something that's hopefully fun for everyone else to watch at home. The crew guys are awesome too. They're always cracking me up in-between shots, which is nice since a lot of the material can get pretty heavy.

Lastly, If you could describe your character in one word, what would it be?
Imaginative.

Season 2 of Mistresses Premieres Monday, June 2 at 10/9c on ABC! Click HERE for Original Link

REBEKA MONTOYA INTERVIEW SECOND EXCLUSIVE INTERVIEW
June 22, 2014

Rebeka Montoya stars as new attorney Antonia 'Toni' Ruiz. Meddling in Savi and Dom's love life with her witty-lines and sassy personality, she's certainly the antagonist this season of the show!

With the series having just made its Season 2 debut, Rebeka was kind enough to answer a few of my questions about her character and what it's like working on set of this ABC series!

QUESTIONS
What was your audition process like for Mistresses? Were you put with Jason George or Alyssa Milano to make sure those chemistries would work well?
I was cast off tape. The day I auditioned, I remember being very excited and anxious to show what I had prepared with the material given. I was ready! When I got to the building there were so many people before me. They were looking at the role of Mickey too. And I was the last one of the girls. Almost two hours later, it was my turn. When I went in, I felt right at home with Mary Jo Slater and Kimberly Ehrlich (Casting Director, Casting Assistant). They are so cool! We did the scenes, they were on tape, and when I was done I remember Mary Jo looking at me with a big smile saying: "You had a lot fun with that, didn't you?!" I knew I'd killed it. That afternoon I found out I was the top and only choice for the role! It was the best feeling!

What was it like working with those two (Jason George and Alyssa Milano) especially and how was it playing the 'antagonist' of the story?

Both Alyssa and Jason are so down to earth. Working with genuinely good people is such a blessing. And when they have as much experience as those two, you know you're getting an education. I was nervous at first, but the second I met them they made me feel right at home and very welcome. It was a true pleasure to work with them, a great lesson and an experience I will never forget!
Playing the antagonist of the story was an absolute blast! It's just fun! I don't know why? I couldn't wait for a new script to come out. I would read and go: "OH no! She's so evil! I love it!!!" Haha!
'Toni' seems like a very fun and very talkative character to play and I love her wardrobe! Did you have a favorite line / scene or favorite costume you wore during filming?
Yes!!! I had a few favorite costumes but I think at the top of the list is the dress I wore in 'Toni's' very last scene of the season :(.
Can you give us fans any hint as to where your character is headed towards the mid-season / season finale?
I don't think I can ... I don't wanna get in (hint, hint) #trouble!
Lastly, if you could describe your character in one word, what would it be?
AMBITIOUS
Thank you guys for the amazing support! You've made this so much more than I'd imagined!
With love, Rebeka Montoya


Click HERE for Original Link
RICKY WHITTLE INTERVIEW THIRD EXCLUSIVE INTERVIEW
August 25, 2014



English actor, Ricky Whittle, portrays Daniel Zamora - the 'sexy-smoldering' artist April becomes smitten with from episode one.

But with all great dramas, everyone has a secret.



After recent episodes we know Daniel's story is much more

secretive and shocking than we could have imagined. Ricky Whittle shares with us his thoughts on 'Daniel', what it's like working with Rochelle Aytes, and also discusses his character 'Lincoln' on the hit CW series, The 100.
QUESTIONS
What was your first impression of Daniel and what drew you to the character (and the show)?

I was a fan of the first season already and got quite into it. I loved the writing and the performances were fantastic. I'm still blown away that I got to work with this incredible cast. They are so talented and welcomed me into the group with open arms, it really was a pleasure to be apart of it.

To be honest I didn't know Daniel's story. I'm also in The 100 in CW and play a strong silent warrior so was looking for a role that was different to that in my hiatus. Well you can't get more different than the charming Daniel. Our amazing producers never told me his secret, just that he had one so to be an FBI agent was as big a shock to me as our audience. Great twist and that's the writing that drew me to the show.



Ricky got ahead of us in his first answer because our next question was going to be -

'Did you know that Daniel's storyline would have such a big twist in it from the start or did you find out reading the script for that week?'

However, he still elaborated on his character's development process.

..

We start filming as they're still writing. They probably know the basic journey of the characters but we find out as the season progresses. KJ Steinberg, our fantastic producer, didn't want me to play anything so she just left me with 'you have a big secret but you genuinely care for April'.


What was it like working with Rochelle Aytes and the cast of Mistresses?

I can't even put into words how fantastic a woman, actor Rochelle Aytes is. From day one, our chemistry read, she was warm, fun and made me feel at ease. She's so talented too that she makes it so easy to have chemistry and act opposite. She is so real and engaging. I call her triple threat because she's beautiful, incredibly talented but then she has this amazing personality too... it's like she was perfected in a lab ha ha. The rest of the cast too were so good to me and it was great to watch and learn from these idols I'd watched from the UK. Now I'm toe to toe with them and they just made it easy by being fantastic people and artists! I want to go through them all listing how amazing they all are but I'd be here all day.

Did you have a favorite episode or script from this season?

Couldn't say a favourite episode yet, they were all so good. Season two really took the show to the next level. Hopefully can't wait to see what they have in store for season 3 ;)


I know you can't reveal too much but is there anything you can preview or tease the fans with about what's coming up in the Season Finale?

Ha ha I can't say anything other than there will be some typical Mistresses shocks and twists that will leave the audience tearing their hair out and wanting more. That's the trick... we want you to wanna come back next season.

Along with Mistresses this summer, you also starred in The CW's "The 100" as Lincoln. What was it like working on two very different shows and what were the biggest challenges in both characters? (Daniel & Lincoln)

I felt very blessed to be working on two hit shows that show at the same time and playing two very different roles. As an actor you want to show versatility and be challenged and both did that. The100 is very dark and action packed which is great fun, it's very physical. Then Mistresses was all about emotional connections. In the 100 the biggest challenge was because Lincoln rarely spoke, he communicated much through his eyes, speaking without speaking...a great challenge. As for Daniel, we had to make him likeable despite his secret. We want the audience to still want him and April to get together and have a happily ever after. Whether that happens or not you will have to wait and see.

Lastly, if you could describe your character 'Daniel' in one word, what would it be?

Complicated.
Click HERE for Original Link

Powered by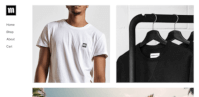 Create your own unique website with customizable templates.